Daily Power is a work in progress but boost is at 3500mbar and fuel is flowing at 130mm3 so it should be good for a solid 800NM+ as a daily driver 🙂 #noSmokenoPoke
Power:
Base Model: 2008 159 TI 2.4 JTDM QTRONIC (Diesel)
Base Power: 200bhp / 400nm @ the flywheel
Dyno Power: 317WHP / 793NM @ front wheels (with Water/Meth 500cc) @ 3200mbar
Daily Power: TBC WHP / TBC NM @ front wheels (with Water/Meth 1000cc) @ 3500mbar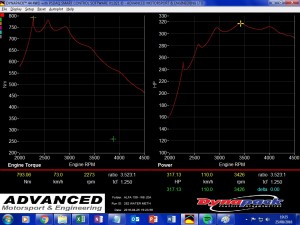 The run above had a faulty water/meth controller which is why its a little jumpy!
Old Dyno Runs of when it was around 250bhp:
Blow back Recirculation Breather System re-routed to exhaust via E-Vac Scavenger and one way morroso valve
Swirl Valves fully blanked in the Manifold
Straight through Wizard exhaust with no CAT's, no DPF and no mufflers on 4″ tails
18 row Mocal oil cooler (235mm)
Hybrid GTB2056 Turbo (BMW 530D Gt22 Turbine conversion, 62mm Extended tip billet Compressor Wheel with 4mm extended tips and 49.60mm inducer "62 trim", Blueprinted, staggered gap oil seals on exhaust side, 15 degree cutback / clipped turbine wheel and 63mm custom  intake adapter)
4bar TMAP sensor
80mm BMC CDA direct to turbo on custom 2ft pipe run for maximum de-restriction
Water Methanol System (AEM Pump & 1000cc/min nozzle + Devils Own 100psi/7bar Progressive Controller)
Inline OIL sensor reservoirs on Engine and Gearbox
Inline Mocal thermostatic control valve on gearbox oil cooler
All ECU Mapping work courtesy of Jacekowski and Jabawoki.
Handling Mods:
255/40/19 Vredestein ULTRAC Vorti Tyres
Spacers on wheels to stance / prevent rub!
Autolusso Braided Brake Lines
Performance Friction Brake Pads @ Front
EBC Yellow Brake Pads @ Rear
MTEC Groved, Vented & Dimpled Discs with Black Treatment all round
ATE TYP200 Racing Brake Fluid
Powerflex Front Upper and Lower Bushes
Modified upper arms with greese nipples
New 330mm Brembo calipers
Lighting Mods:
Electrical Mods:
16v 83.333F Super Capacitor Bank on primary electrical system
230v AC Socket in Glovebox
Twin Digital Temp Gauge (Engine and Gearbox Oil) in air vent mount
secondary fused distribution boxes under dash and in engine bay for ancillaries
All wiring and ancillary systems wrapped to look stock.
100Amp Shunt and Volt / Ammeter from Capacitor Bank to Battery
Multiple 2.2amp USB sockets and feeds for general convenience!
Under Bonnet Temperature Sensor / Gauge 
Visual Mods:
Fog Lights removed from front bumper and re-grilled for greater air flow to additional radiators
Latest Gen Badges all round
Some stickers:

Cloverleafs …because race car.
Nurembergring Sticker …because she's been 🙂
"Built Not Bought" …because she is.
Related Images: