After the successful modification made to the gearbox cooling system https://jabawoki.com/2016/01/27/alfa-159-gearbox-cooler-modification/ I found that, while the cooling was perfect while the car was moving over 30mph, there was an issue at lower speed.
On more than one occasion I found that if I sat in traffic, slowly edging forwards towards a busy roundabout, once I got to the roundabout and accelerated away, I would have a shift flair for the first gear change. This would disappear by the second change so was clearly a cooling issue where the lack of airflow meant that the gearbox temps would rise in traffic until you had airflow again.
The fix is/was simple. I just needed a thermostatically controlled fan adding to the radiator so that I could generate airflow at low speeds.
After doing some basic research I found a really nice 5″ fan from SPAL, available from Merlin Motorsport.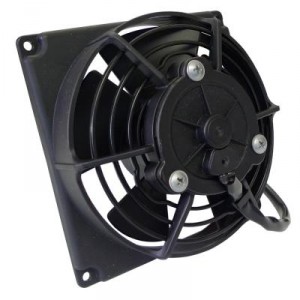 This unit was very high power and perfect for the job but I needed a thermostatic control solution as well. Merlin had the ideal solution as well, a Davis Craig Thermostatic Adjustable Fan Controller.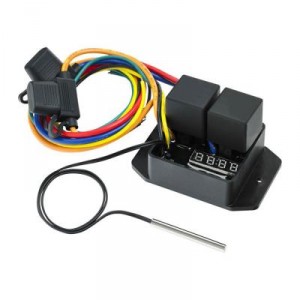 This fan controller was ideal as it had a separate external temp sensor that was fitted into the radiator itself which meant I did not have to cut into the oil lines to make the mod.
Fitting required removal of the bumper as usual, but that gave me an opportunity to fix a crack that was temporarily repaired previously.
Adding the fan was very easy as it came with its own mount kit that essentially used special plastic ties that passed through the fins of the radiator and clamped it securely to the rear of the unit.
Fitting the fan controller was a little more tricky but only due to the very short wire run on the temperature sender which meant it had to be within two feet of the fan. Fortunately it nestled perfectly between the ECU and the headlight!
The unit can control two fans but I am only using it in single mode. It has an adjustable temp trigger so mine is set to 75C which is a reasonable point to start testing from. The added digital temperature display is also quite useful for diagnostics!
I will have to see how it pans out but I am pretty confident that this will sort the last pesky shift flairs for good!