I had wanted a flat bottomed race wheel from the day I bought the car but other more pressing issues were ahead of the modification! The original wheel was a 280mm (small) 10″ old style wheel that was just difficult to use. It was also so far forward that your legs were right on it so it needed to be modified!
That said, I bought myself a very reasonably priced 320mm flat bottomed suede OMP Racing wheel, a universal quick release boss, and a Momo steering wheel hub to fit the Sierra base. Once I had the parts, it was far more of a mamouth task than I originally thought!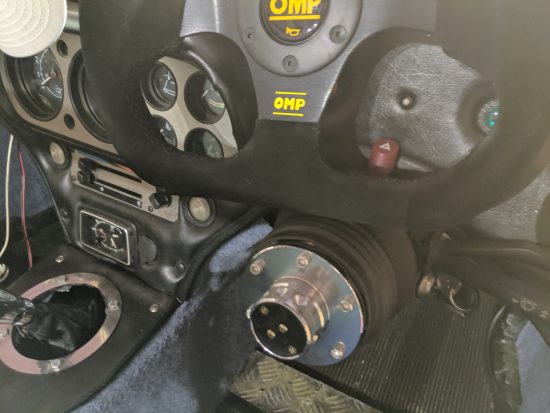 The first problem I had was getting the old hub off. I had to make a bar with a bolt in the center and bolt that to the hub then use the center bolt to push the wheel off the spline. Getting to that point took me the best part of 4 hours!
Once it was off, the new Momo boss went on like butter, and then the back half of the universal boss mated straight to it. Up came the next problem though as the centre horm push was slightly too big to go into the universal boss so I had to modify it and sold the wires on the back of the horn push in order to get it all fitted.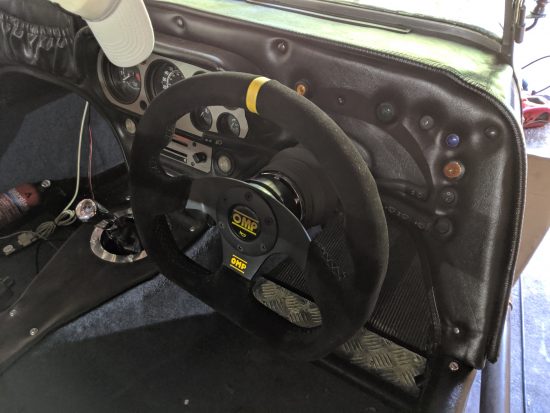 Once the wheel was installed I had to readjust the toe on the front end to line up the wheel and the wheels, but its going in for an MOT and a full alignment once its back on the road so I am not too worried!