For the longest time I have had an itch that I needed to scratch. Specifically the itch of a lightweight, open top, fast road toy for the summer days and track. This desire was in the particular flavor of a lotus Super 7 Kit car.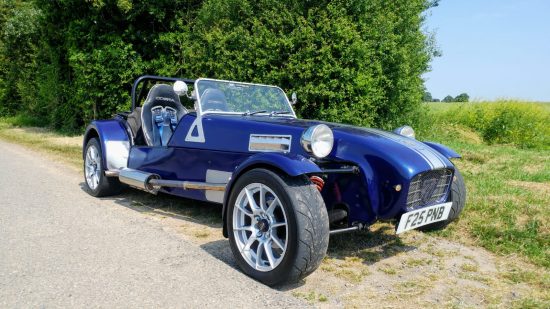 There are many styles of Super 7 to choose from, GBS Zero, Haynes Roadster, Westfield, Caterham, Dax etc etc etc. Literally too many to choose from, however, luck, proximity and price brought this little bundle of joy into my life.
She is a Robin Hood 2B Roadster, based on a Sierra donor with all the right bits under the bonnet, but in need of some much needed TLC! This was just the right combination for me to jump on the purchase and start my journey.
The car was in need of some love though as she is ultimately nearly 20 years old! Fortunately, I am not shy with a spanner and had every intention of bringing her back to her former glory.
That is where this journey begins. I will post updates on the progress and modifications as I go, but here is a short description / summary of the vehicle as a base:
Robin Hood 2B Roadster base car with Ford Sierra donor parts
SGS Engineering double wishbone conversion
Ford Zetec SE (Sigma) 1600 engine
Ford Type 9 Gearbox with ShortShifter
Ford 7″ Limited Slip Differential
Megasquirt MS2 ECU
Throttle Bodies (converted Deloorto Carbs)
Westfield 15″ Wheels
Blue with Ford ST Racing Graphics