I was hoping when I rebuilt the suspension that the brakes were ok. Well they looked ok, and the car seemed to brake fine so I didn't think I needed to do anything to them until the winter. Well, turns out that they were a little less than perfect and caused an MOT fail!
According to the Brake test, there was a 46% difference between NSF and OSF, whcih was a bit of an issue! I am a little unsurprised though as during the suspension rebuild, suspending a caliper on cable ties and occasionally knocking it off was more than likely to have upset a 15 year old braided hose! The fix was simple, rebuild both callipers with new seals and pistons, put new brake lines on, and flush the whole system.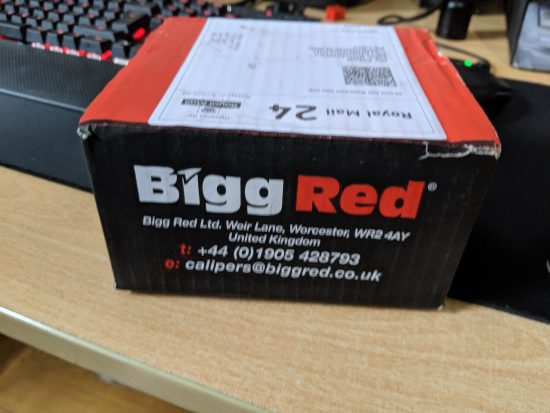 First up was a "Bigg Red" Calliper rebuild kit, cheaper than expected, coming in at £27 delivered! This gave me a new set of seals and a new piston for each calliper. The pistons that came out were pitted so a rebuild kit that included pistons was key. While the callipers were apart is was an ideal time to spray them with my favourite Auto-K Calliper paint, so I set about doing that. While the wife was out one day, I took advantage of the oven and decided to cure the paint to 200c (needed for the paint to harden) off the car and before I rebuilt everything.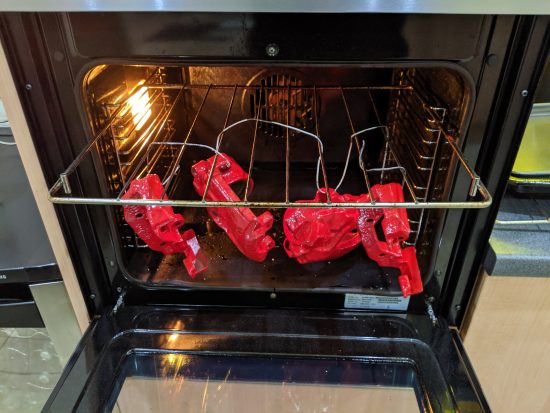 Before paint, I put the pad carrier in a vice and filed smooth all the pad glide surfaces to remove many years of corrosion and paint. After I painted them again, I removed the overspray with a file on this area and before putting the pads in coated the entire slide area in copper grease.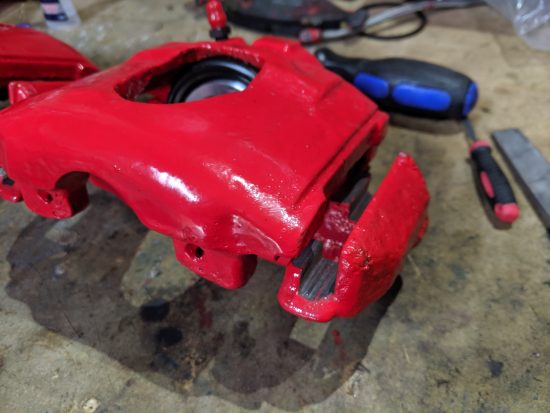 The new braided lines were supplied by GBS through Kit Spares, and again, were great value for money. A full set (4 lines) was around £60 delivered, which considering they were branded Goodridge and very high quality, is excellent Value for Money. I have only installed the front lines for now as the rear callipers were fine, but i'll do the rear end in the winter!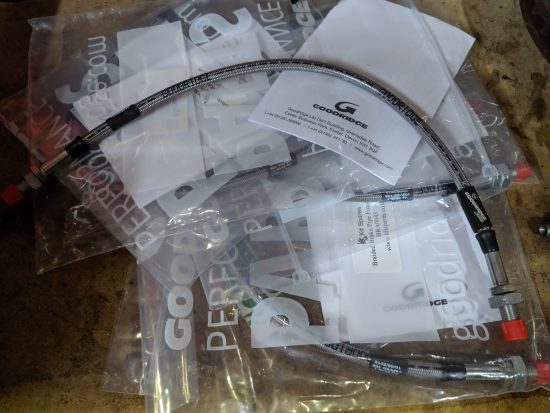 The brake fluid was old and had lots of corrosion in it. When I flushed the system through the furthest calliper tons of black floaty bits came out. I am pretty sure this fluid had been in the car for several years! It took about 1.5l of fluid to fully flush & bleed the system, but boy was it worth it.
The final product went back together very easily and an MOT retest showed perfect front brake bias so I cant argue with that! Another job I wasn't expecting ticked off!